June 23, 2023
ORCA: Ride with Pride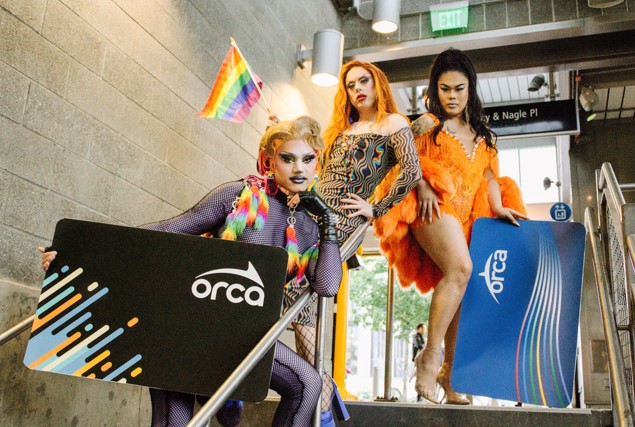 ORCA partnered with three local drag queens (Arrietty, @arrietty.1 on Instagram, CaraMel Flava, @caramel.flava on Instagram, and Stacey Starstruck, @stacey.starstruck on Instagram) to create a first-of-its-kind collaboration commemorating Pride Month at the busy Capitol Hill Link Station in Seattle. Pride Month is a time to celebrate and embrace inclusivity and diversity, both of which are essential to the mission and vision of ORCA. 
When asked what transit meant to them, Arriety mentioned that it's "like having your own public limousine." ORCA staff agrees, transit should feel that way! Frequent, affordable, connective service is an extremely beneficial resource for all communities, including the densely packed neighborhood of Capitol Hill. Residents should be able to feel proud of transit investments in their backyard. It's all about connecting more people with more places.  
The Regional ORCA Operations Team's vision statement includes the following phrase: enabling mobility. Mobility is essential to economic and personal growth, and ORCA's commitment to this value does not vary from rider to rider. Whether it's a family taking the Monorail to PrideFest at Seattle Center, a group of friends taking the Sound Transit 1 Line to PrideFest in Capitol Hill, or a couple taking a bus to one of the many other Pride festivals happening around Puget Sound, ORCA is there to support your journey. 
The selection of Capitol Hill Station to highlight this pride collaboration was a natural one. Capitol Hill is the longstanding, vibrant center of Puget Sound's LGBTQ+ community and the Sound Transit Link station is a bustling front door to the neighborhood. The station's connection to the area is highlighted by the AIDS Memorial Pathway and its direct flow into Cal Anderson Park, named for the state's first publicly out legislator. 
ORCA thanks the queens for their time on this project and for their dedication to the community.  
Will you be using your ORCA card to get to Pride festivities this weekend? We'd love to see them! Take a photo and tag @TheORCACard on Twitter or @TheRealORCACard on Instagram so we can share some. 
 Happy Pride!