March 29, 2022
All About Boarding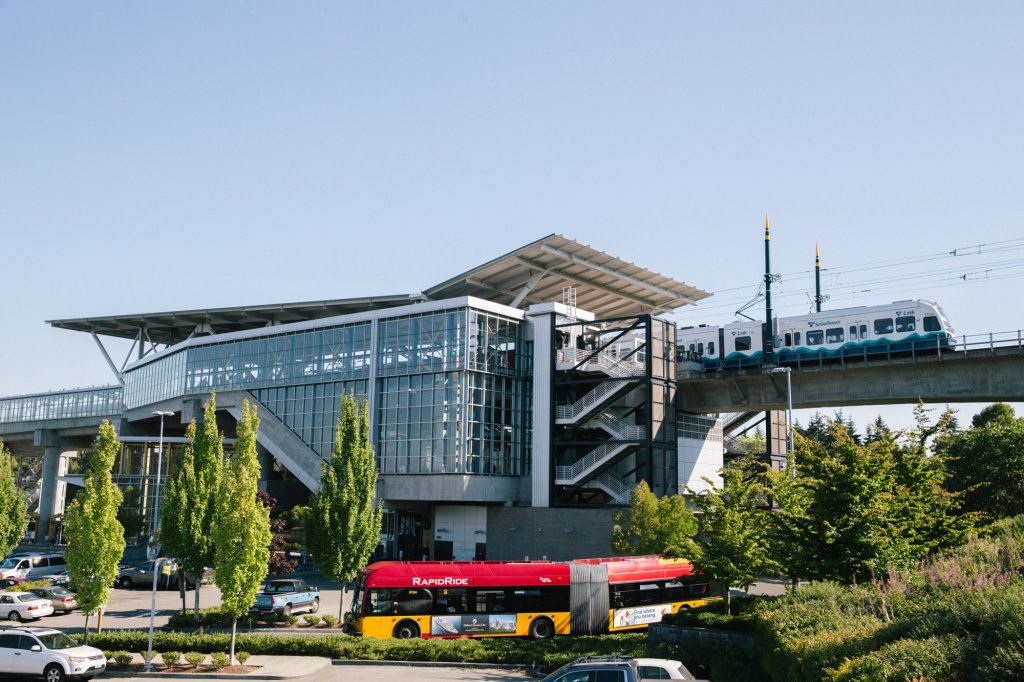 Riding solo, or with a group? Transferring between different services, such as from a train to a bus? Here's what you need to know about hopping your ride with the new and improved ORCA. 
On the Bus: Tap on! 
Using ORCA to pay your bus fare is an easy "one and done" – just tap on. That's it! There's no need to tap off when riding the bus. 
If you're transferring to another bus, just tap on when you board the next time within two hours. ORCA will automatically calculate the transfer cost. If your second leg costs more than the first, you'll only be charged the difference. Odds are, your transfer will be completely free! 
For Rapid Ride or Swift buses, tap your card at stations on an ORCA card reader and board through any door. At other stops, enter through the front door of the bus and tap your card.  
On the Train: Learn the moves!  
Tap on, tap off: Link Light Rail and Sounder Trains  
Tap on only: Monorail and Seattle Streetcar 
When climbing aboard a Link light rail or Sounder train, we all know to tap our ORCA cards on the reader. When you hear that single beep, you know your card has registered. But did you know that tapping OFF is just as important?  
Why tap off? 
Pay for your journey, but no more! Link and Sounder fares are calculated by how far you travel. If you don't tap off, you'll be charged the highest fare from your origin. Don't pay for a trip from Seattle to Lakewood if you only went as far as Auburn!

 
When you tap off, you will hear one beep. That way, you'll know you've been charged for the correct distance traveled. 
And another note on transfers – ORCA is the only way to pay for transfers between different services. If you plan to ride both a bus and a train or light rail, use your ORCA card to ensure your credit from your first ride applies to the next.  
And don't forget to tap off on Link Light Rail and Sounder trains!  
With a Group
Traveling with family, or out with your crew? Important changes are coming to Group Fares with the new and improved ORCA.  
The current ORCA system is all about the ORCA card – the chip on the card holds and tracks your funds. If you lose the card, it's like losing cash money. 
In the upgraded system, your funds and personal information will be stored in a central account. This offers significantly better privacy and security than the current system. It also allows you to manage your funds and account information quickly and easily on the new myORCA.com website or mobile app. 
What does this mean for group travel?
In the new system, each rider will need their own ORCA card to ride and pay their fare. Because the system stores value in your account rather than on the card itself, a single card cannot be used to pay for multiple riders. Asking the bus operator to add multiple riders to a single ORCA card will no longer be available when the new system launches.  
However, riders can store multiple cards on one account. 
Need to get a card for everyone? Consider the variety of fare programs available to save on fares. LIFT, Youth, senior and disabled cards are free, and the fare discounts can be significant. Don't miss out on these savings! Link them all to your account for easy management. Read more about which fare is right for you or other members of your family!   
Group Products on one card will still be offered when applied for in advance and for certain groups. 
Group fares can be requested in advance and are available for class trips, group homes, caretakers, and other qualifying entities. For further information, please contact customer service.