August 29, 2022
From Classic Blue to New: How to Transition to a New ORCA Card
Do you need a new ORCA Card? Learn how to transfer from one ORCA card to another.
New ORCA cards are available to riders starting this fall. You may be asking yourself, "will the pass or E-purse value on my current card transfer over to the new one"- or – "do I even need a new card"? This article will cover the answers to those questions and more. What you need to do depends on which ORCA card you have!
Do I even need a new card?
The answer for most ORCA transit card holders is no! All current Adult, Youth, Senior, Disabled, and LIFT cards will continue to work in the new system, and you can reload all these cards online, via the myORCA app, at a vending machine, by calling or visiting ORCA customer service, or at select retail stores.
"Select retail stores", what does that mean?
Starting this fall, the only people who will need the new card are those who purchase cards and load value at retail stores, specifically if you reload at a Safeway or Albertson's store.
If that's not you, or you reload at a QFC or Fred Meyer store, then you can keep tapping that classic blue or RRFP card well into the future. You can read all about the changes coming to ORCA at retail stores here.
So, do you reload at a Safeway/Albertsons store? Or – are you still after that new ORCA card?
Depending on which card you have, here is the best way to transition from an old ORCA card to a new one.
Adult Card
That classic blue card in your wallet? That is the standard adult ORCA card.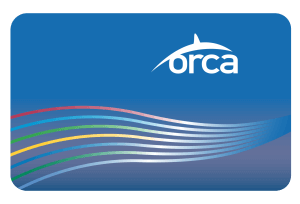 When the new black adult cards launch this fall, before you purchase one for $3:
Do you have a current monthly pass on your blue card? If yes, make sure you finish out that pass before getting rid of the card. Passes do not transfer between cards.
After you purchase and have the new black card:
Do you have E-purse value on your blue card? Not to worry, there are a few ways to transfer the value from your blue card to your new black one:

Online:

Log into your myORCA.com account online or via the app.
Once you have your new black card, link it to your account.
After linking, click "transfer balance" on the homepage of your account.
Transfer the balance from your blue card to your black card
Once transferred, cancel out the old blue card
Or, call or visit ORCA customer service and they can do it for you. 
LIFT, Senior, or Disabled RRFP Cards
Does your card have a solid bar at the top? You are one of our ORCA RRFP cardholders.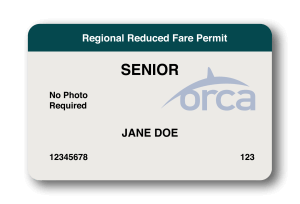 The best way for you to replace your RRFP card is in-person at an ORCA customer service location.
Once at a customer service location, you will:
Get a replacement card for free. Reduced fare card holders are eligible for one free new card
Have your current pass and/or E-purse transferred over instantly
Have your old card cancelled and disposed of
Making the trip to ORCA customer service can save you a few headaches:
If you order a replacement online or order by calling ORCA customer service, your old card will be blocked and unusable until your new card is mailed to you, which may take 5-7 days.
 Here is a list where you can find all the ORCA customer service locations.
Employer Issued Card
Did your employer provide you with your ORCA card? Not to worry, that card will continue to work. Your employer will let you know when they want to transfer over to the new cards.
Let's Connect
Have more questions about the new ORCA card, expanded retail network, or how to transition between cards? Check out our FAQs.
Or – look out for the ORCA team at a store near you! We'll be hosting some educational events through the end of the year throughout the region. Check out the calendar and stop by!