January 13, 2021
Upgrades ahead: the new ORCA for business account management portal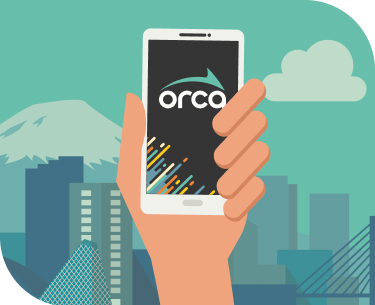 Launched in 2009 as One Regional Card for All, the ORCA card unified Puget Sound transportation like never before. For the first time, businesses could distribute one transit card to employees that were valid across multiple transit agencies, including:
Community Transit

King County Metro

Everett Transit

Kitsap Transit

Pierce Transit

Sound Transit
As effective as ORCA is, there is room for improvement and growth within the system as card and payment technology has advanced tremendously since 2009. These advances give ORCA an opportunity to make a regional card even better, more functional, and even simpler for current and future customers. In Spring 2022, we plan to roll out a new, comprehensive, and modern version of ORCA to meet the growing demands and modernization of the payments and transportation industry. This initiative is called next-gen ORCA. 
This article will be an introduction to the new functionalities of the new and improved ORCA as well as a timeline for these changes and explain how you can prepare.
New ORCA Business Account Website and Transition
ORCA will get a major website upgrade with the new business account management portal, myORCA.com. When the new site is launched, you will access your account at myORCA.com and the former site, www.ORCAcard.biz, will be retired. 
The new site will enable administrators and employees to more easily manage their accounts. Bulk purchase passes, funds transfers between accounts, automatic reloads, and more will be available on the new ORCA site. 
You will still be able to participate in the same Business Choice or Business Passport program, but you will need to know a few things to prepare for the the myORCA.com launch. This article will walk you through what to expect during the transition. 
ORCA Card Benefits
New and Improved Account Management Features
The new ORCA site is all about making it easier to manage your account. Whether you run a business with five employees or five thousand, the myORCA.com will make managing your transit benefits program even more effective. 
Here are the new features you'll enjoy:
Place bulk orders for groups of employees. 

Bulk upload employee information with real-time error reporting.

Assign and re-assign transit accounts to employees.

Ship cards to multiple locations.

Monitor and report on account activity and balance in real-time.

Set up autoloads to simplify regular transactions.
Along with these features, the new system will enable you to create multiple admin logins. Admins will be able to create and download reports and monitor account activity.
Flexible Payment Options
One of the areas myORCA.com will improve is its payment flexibility. Admins will be able to make split payments where they can spread payments across different payment methods. These split payments can be combined with auto reloads to automate split payments.
Plus, admins can easily transfer funds between accounts, and all e-purse value and monthly passes will be updated instantly. You will no longer have to wait for 24 to 48 hours for accounts to reflect the correct e-value or pass.
Of course, riders will also enjoy greater flexibility. Among other things, they will be able to manage their accounts, add products, and report lost, stolen, or damaged cards. And admins will be able to more easily manage requests for new cards.
You can read more about the changes and benefits to the rider experience in our post Why we are improving ORCA.
The ORCA Upgrade Project Timeline
How to Get Your Account Ready
To prepare for this initial launch, it's critical to ensure your account's primary contact info is correct. You can update your primary contact information now by logging into your account at orcacard.com. From there, you will need to select the "My Details" tab on the left-hand side to confirm or change your personal details. 
The ORCA for business portal will launch along with a new consumer website and mobile app. To log into your business account at myORCA.com, you will receive an invitation at your primary account contact's email address. 
The email will contain a link to complete registration of your account. Once you've completed registration, you will need to set up payment methods. During that setup, you can also configure autoloads and begin to associate cards with employees. 
As mentioned, the new ORCA for business portal will launch along with the new consumer website and app. Following that, there will be new payment options and a large expansion of ORCA's retail footprint. 
As you can see, improvements to ORCA will take place gradually over the next few years. Even so, plans are already well underway to ensure each step of the transition is as seamless as possible. For those who need it, financial support for card replacements will be available.
If you'd like more details about the timeline for the rollout of the improved ORCA system, you can find it in our article, The Next Generation ORCA Timeline.
ORCA for Business: Building on What Works
Since 2009, the ORCA card has been a smart choice for your businesses and employees. And soon, the ORCA card will be even smarter. 
The core benefits of ORCA for business remain. You will still manage all of your accounts online and you can use ridership data to plan and budget your employees' transit benefits. 
The ORCA Business Passport will continue to offer a comprehensive annual transportation program. Employers will pay a flat annual cost and receive ORCA cards that cover almost all of Puget Sound's transit services.
ORCA Business Choice will also continue to enable businesses to fund their accounts every month. Business Choice will be even more convenient thanks to the new ability to autoload e-purse value and monthly passes. 
Overall, the main difference is that ORCA customers will have more options to conveniently manage their accounts and pay their fares. You will have a modern, more intuitive website that matches the online experiences you expect. And as your needs and technology evolve, ORCA will be better able to adapt.
In short, we are keeping the things you like about ORCA while also making it better. And we are doing it all with a minimum of interruptions to you and your business.