November 21, 2022
ORCA Classic Card Reloads No Longer Available at Safeway and Albertsons Stores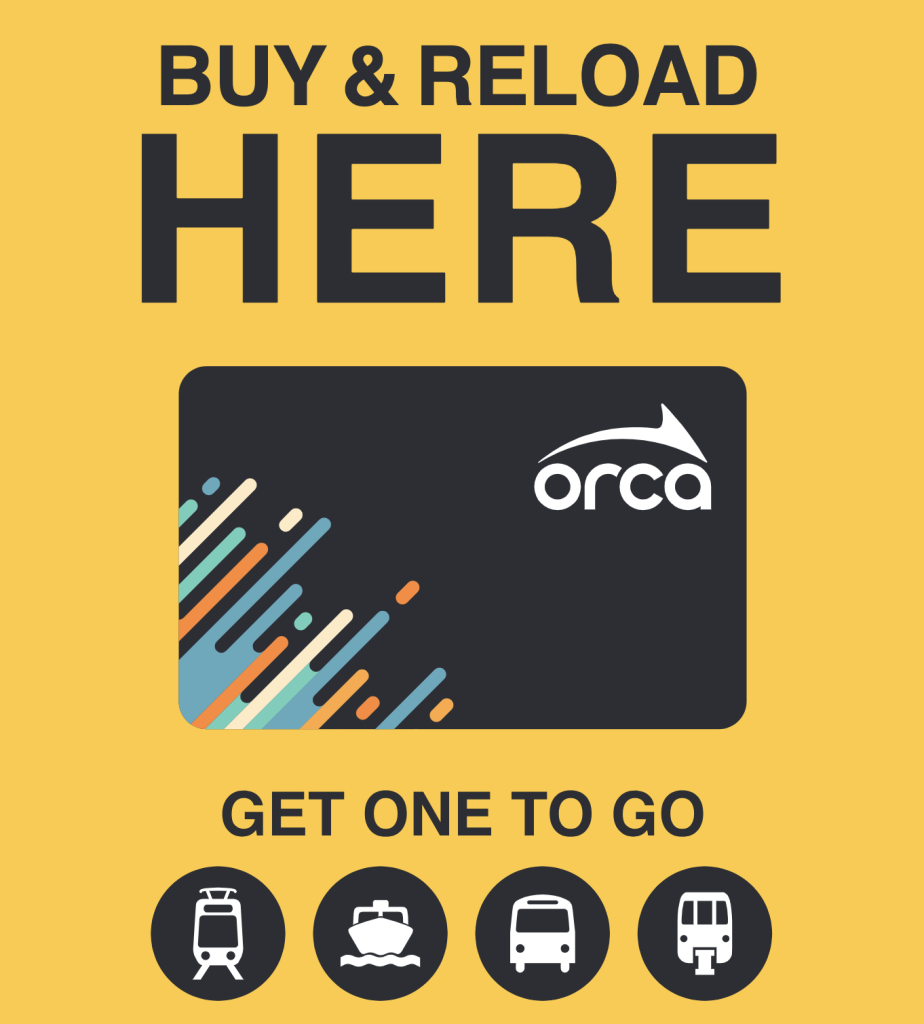 As a part of the major improvements to the ORCA website and app this year, ORCA also launched a newly designed card this fall. One of the main reasons we introduced the new card (other than the awesome design!) was to expand where ORCA cards can be sold and reloaded.
The new card, which has a barcode on the back, allows us to include more communities and locally owned businesses across the Puget Sound region into the ORCA retail network. In other words, more accessible places for our riders to purchase ORCA cards and reload value.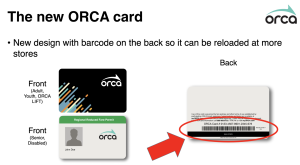 Although many existing stores and new stores joining the network will be able to reload both classic blue, Regional Reduced Fare Permit (RRFP), and new cards, some stores, such as Safeway and Albertson's, will only reload new cards, beginning December 1, 2022.
Beginning December 1st, 2022, Safeway/Albertsons stores will not be able to reload classic blue and RRFP ORCA cards around the region.
I usually go to Safeway/Albertson's stores to reload my ORCA card; do I need to get a new one?
 The good news is if you have an RRFP ORCA card (LIFT, Senior or Disabled) or only load at a Safeway/Albertsons stores, you can get a card replacement for free at an ORCA customer service office! If you don't want to get a replacement card, which costs $3.00 for Adult card replacements, ORCA is now in more stores than ever, and we're still growing our network. There may be another store or location closer than you think.
As a reminder, our website and app now load funds instantly; the new myORCA.com makes it easier than ever to add funds or passes to your card or add value on the go with the myORCA app.
Still need to replace your ORCA card?
Depending on which card you have, here is the best way to transition from an old ORCA card to a new one:
Adult and LIFT Cards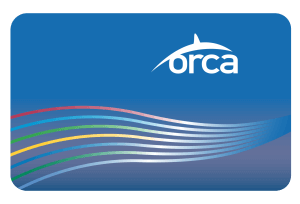 If you have a blue Adult ORCA card, you can purchase a replacement card for $3.00 at all participating retail stores, including Safeway/Albertson's stores, as well as:
The myORCA website and app (could take 7-10 days for a replacement)
By calling or visiting an ORCA Customer Service locations
At an ORCA vending machine
Do you have a current monthly pass on your blue card? If yes, make sure you finish out that pass before getting rid of the card. Passes do not transfer between cards.
After you purchase and have the new black card:
Do you have E-purse value on your blue card? Not to worry, there are a few ways to transfer the value from your blue card to your new black one:

Online:

Log into your myORCA.com account online or via the app.
Once you have your new black card, link it to your account.
After linking, click "transfer balance" on the homepage of your account.
Transfer the balance from your blue card to your black card
Once transferred, you can cancel the old blue card
Or, call or visit ORCA customer service and they can do it for you. 
 Senior, or Disabled RRFP Cards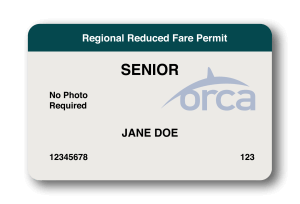 If you have a Senior/Disabled RRFP card and rely only on Safeway/Albertson's stores to reload your ORCA card, you are eligible for a free card replacement. For a free ORCA card, visit an ORCA customer service location.
Once at a customer service location, you will:
Get a replacement card for free. Reduced fare card holders are eligible for one free new card if you need to continue loading at Safeway or Albertson's stores
Have your E-purse transferred over instantly
Have your old card cancelled and disposed of
Making the trip to ORCA customer service can save you a few headaches:
If you order a replacement online or order by calling ORCA customer service, your old card will be blocked and unusable until your new card is mailed to you, which may take 7-10 days.
 Here is a list where you can find all the ORCA customer service locations.
Employer Issued Card
Did your employer provide you with your ORCA card? Not to worry, that card will continue to work. Your employer will let you know when they want to transfer over to the new cards.